Unique Hydrating Essence to Prep Skin for Maximum Benefits from Serums & Moisturizers
An essence is often referred to as a miracle water and our EGF Essence will not disappoint. The hydrating formula of pure, soft, lava-filtered Icelandic Water is designed to prepare the skin to receive our potent Barley EGF serums and creams. This lightweight facial essence penetrates quickly delivering Glycerin to the skin, pulling in moisture, and creating a hydrated environment that boosts the absorption and results of our Barley EGF. It is truly a multi-faceted beauty solution, bringing together the best of a hydrating toner, nourishing beauty water and essence treatment for moisturized, healthy-, and younger-looking skin.
Why EGF?
EGF or Epidermal Growth Factor, is one of the most important proteins found naturally in our skin and plays a major role in the healthy function of collagen, elastin, and hydration. As we age, EGF levels start to decrease leaving our skin vulnerable to aging. To help combat the visible effects of aging, BIOEFFECT invented a way to produce a plant-based EGF in barley. Our Barley EGF is a sustainable, renewable ingredient grown in our ecologically-engineered greenhouse in Iceland that is powered by geothermal energy.
This is how we do pure, green, and clean beauty at BIOEFFECT.
Features & Benefits
Rehydrates & Replenishes Skin
Prepares Skin for Serums & Moisturizers
Lightweight, Fast-Absorbing
Enhances Barley EGF Efficacy
Suitable for All Skin Types
Oil-free, Fragrance-free, Alcohol-free, Paraben-free and Gluten-free
Hypoallergenic
Size: 100 mL/ 3.38 fl.oz.
Apply to clean, dry skin. Pour a palmful of essence into your hand, about 2-4 splashes, and gently press into the skin on your face and neck.

To maximize results, incorporate into an everyday BIOEFFECT EGF skincare routine.

Pair with:
- EGF Serum is an award-winning, anti-aging serum with only 7 pure ingredients.

- Hydrating Cream is an oil-free moisturizer with Barley EGF and Hyaluronic Acid for hydration lasting up to 12 hours.

For external use only. Use only as directed. If irritation occurs, consult a dermatologist.
Key Ingredients
Barley EGF – Moisture-binding, skin-rejuvenating, and signaling protein. The first of its kind to be produced in plants by BIOEFFECT scientists to combat the visible effects from the loss of the EGF found in our skin naturally. Barley EGF helps support the skin's natural collagen production and is essential for keeping skin looking smooth, healthy, and youthful.

Glycerin – Powerful plant-based humectant that pulls moisture into the skin, while smoothing and conditioning the skin's surface.

Icelandic Water – Clean, soft, and pure, as it is geologically filtered through layers of inert volcanic lava, with a low concentration of hard minerals such as calcium and magnesium.

Full Ingredient List
WATER (AQUA), GLYCERIN, ISOPENTYLDIOL, PROPYLENE GLYCOL, SODIUM CITRATE, SORBITOL, PHENOXYETHANOL, SODIUM CHLORIDE, CITRIC ACID, BARLEY (HORDEUM VULGARE) SEED EXTRACT, EGF (BARLEY SH-OLIGOPEPTIDE-1)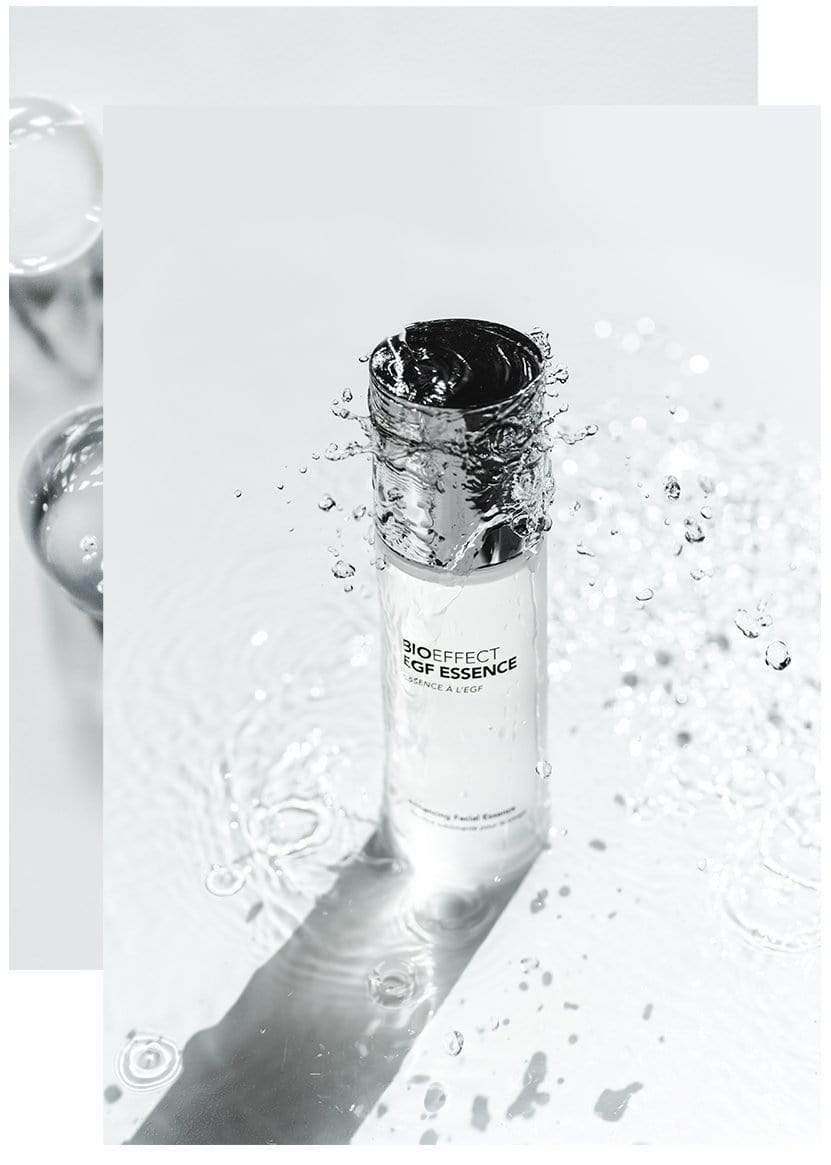 A Miracle Water
Although essences are deeply ingrained in Asian beauty regimens, and have been for centuries, it is only in the last couple of years that they have been embraced by the rest of the world. Sometimes called a "miracle water", an essence is light-weight, fast-absorbing and packed with active ingredients to combat specific skin concerns.
Just a Splash
Pour a palmful of essence into your hand, about 2-4 splashes, and gently press into the skin on your face and neck. Follow with a BIOEFFECT serum or moisturizer of your choice.